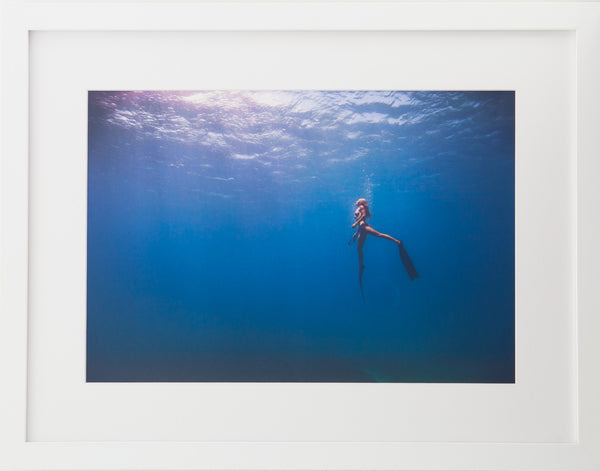 Lolo Rising
This print will arrive matted and framed with a subtle 1.25" white wood frame and a 3" white mat. Finished and framed size is 28″ × 21.5″.
I had been wanting to create a piece like this for quite some time, but there had been a great number of limiting factors and the largest one was finding a model willing to freedive repeatedly and to be ready at a moment's notice as the weather and environment had to be right. Enter Lolo, an underwater photographer and videographer.
It was as if Lolo was reading my mind when she offered to dive for me. I was thrilled and relieved to finally be able to realize this vision. What became more evident as we tried to get the right conditions to work in concert was that this photograph of Lolo would come to represent her and the life that she was creating for herself through her determination, focus, and spirit.
Even now, as I look at "Lolo Rising", I smile and am in awe of all that she can do and will accomplish in her life. I love the simplicity of the colors and the calmness that is evoked as she gently moves towards the life-giving air just beyond the water's glass-like ceiling that she will pierce over and over again.